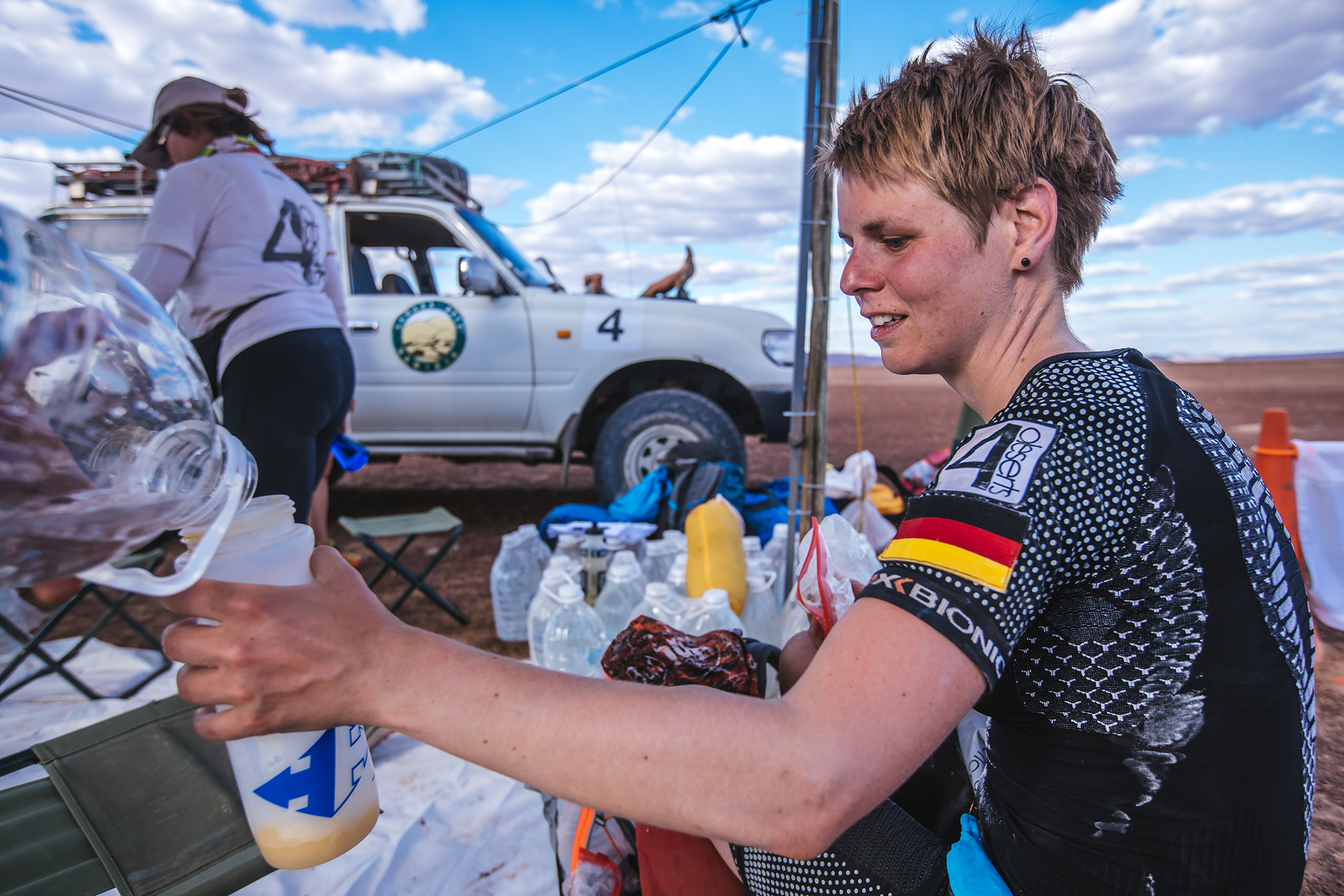 Kirsten has been known in the ultra running scene for many years. She won the Namib Ultra Marathon in 2017 (7 days and 250 km through the desert), ran the Mauerweg 100 Miles to name only a couple. When I met Kirsten two years ago, she fascinated me a lot more with her open personality than with her great running results. Since then we have been in contact and regularly exchange ideas about sustainability in our daily lives and how we can give back to nature.
We are thrilled to have her on board for the Tree-Athlete initiative. Learn more about her and get inspired …
Your eye opener for an active and natural lifestyle?
During my desert run in Namibia in 2017, I realised how happy I am when I have this deep connection with nature and everything is reduced to the basic essentials.
2. Your perfect day?
Takes place completely outside and is peppered and consist of activities, people and bare feet.
3. Favourite Vegan Food?
There is a vegan bistro in Münster that offers a bowl with Hokkaido rolls, falafel and vegetables. Simply delicious. Some long runs have already ended there.
4. Most beautiful nature experience?
80km stage at the desert run in Namibia. Over 40 degrees, strong headwinds, high canyons to the right and left and a feeling of humility and gratitude. Nature and the earth are so mighty, beautiful and strong – I as a small person am allowed to be here.
5. Most sensible sustainable product, e.g. bamboo toothbrush;)?
The latest discovery are reusable garbage bags from the Unverpacktladen (zero waste store)
6. Favourite activity besides running?
Short baths in the ice-cold lake, canal or sea.
7. Be active in the heat or cold?
Better the heat for running
8. Mountains or beach?
Both are wonderful – but I find beaches and deserts magical.
9. Early bird or night owl?
Early bird
10. Quote that you wish came from you?
Actually none … smart sayings are of little use. You have to feel and experience it.
11. You are the first runner who has adopted the Tree-Athlete concept for yourself and you donate also one tree for every 100 km you run? What does it mean to you to be a tree athlete and what do you want to achieve with it?
I want to be active myself and invest my energy in a positive project.
In connection with the pandemic, the topic of environmental protection has become more important to me. I would now like to make a small contribution to the preservation of this beautiful and energising planet. The Tree-Athlete concept helps me to keep the focus on my values and to look for small adjustments in my everyday life.
Of course, I hope for many people to join this fantastic project – so that we can become a movement with a lot of positive energy.
12. Is you intention of your commitment to just give something back to nature or does your active Tree-Athlete membership motivate you in other ways in your daily life?
The whole orientation towards a closer relationship with and connection to nature motivates me. This includes consumer behaviour as well as spending nights with a bivouac in the forest.
13. What do your family and friends say about about your Tree-Athlete engagement?
So far nothing 😊. However, I gave many of them a tree voucher for Christmas and they really appreciated the idea of a sustainable Christmas gift.
14. How do you live sustainability in your everyday life?
I try to buy only regional and organic products, fairtrade and pay attention to eco-certified products and to not produce any unnecessary waste and especially food waste. So I prefer to buy my groceries in zero waste shops, and do not make spontaneous purchase decisions, but critical consumption. In addition, I get use green electricity from a small initiative run by the citizens. In general, I try to make "correct / conscious" decision, but I don't always succeed and then convenience or comfort of everyday life takes over. That's why I pursue a "if possible strategy" 😉
15. What role does running play in your connection to nature?
Running outdoors is extremely important to me. The more nature I can enjoy on the way, the greater my well-being.
16. How can people who don´t run give back to nature?
Just Create your own Tree-Athlete challenge, e.g. for every 3rd yoga session / every 5th vegan meal = a tree donation. In addition, they can participate in reforestation events of the Bergwaldprojekt. Analyse your own lifestyle with regard to ecological improvement possibilities or  give trees as gifts.
17. What do you wish for in the future aside from an end to the current pandemic?
To find a good balance between the demands of civilisation and a natural lifestyle.